BEHOLD MYSTIC CANDLES
Ignite The Wicks - Your Candle Experience Awaits!
Ethereal Blends of Florals, Herbs & Resins Divinely Aligned to Illuminate Your Space and Elevate Your Senses.
24k Gold Hand Detailing

Crystal Infused

Affirmations Meditations Invocations included
Large Artisan Soy Candles
Made in Waikuku Beach New Zealand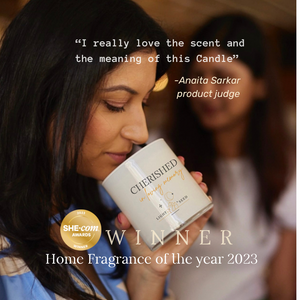 CHERISHED In Loving Memory Candle - Includes a Light Seed Remembrance Meditation
Loving thoughts and well wishes have been poured into this slowly handcrafted candle.
More info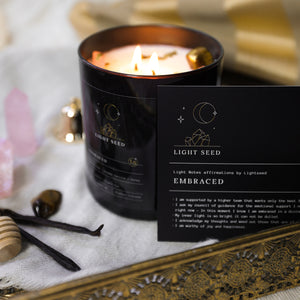 EMBRACED
The heavenly scent of French Pear, Creamy Vanila and Sandalwood  fills the room, wrapping you up in a delicious embrace.  
More info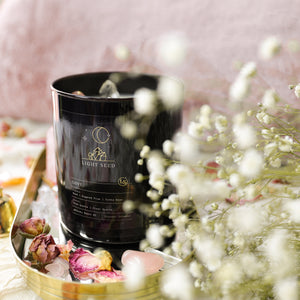 Love
Romantic, sensual and classic. Relish in the high vibe fragrance of LOVE as senses are raised and love is bestowed. The candle of love...
More info
Here's what Our customers are saying...
EMBRACED

I received my Embraced candle today. What wonderful gift! The visual affect is stunning - rose quartz and tigers eye sitting in the creamy wax. The delicate smell of vanilla and pear... immediately calming and peaceful. The size and quality of the holder means many months of enjoying my gift xx🙏🙏

VAL CRATES
AWAKEN

This candle has its own energy, divine magic & intention. The packaging and level of quality, this candle is simply outstanding and breathtaking!

LARINA TIFFEN, CLAIRVOYANT @ PRIESTESS LILLY RADIO HOST PLAINS FM
EMBRACED  

Wow stunning. Right from the beautifully presented packaging and logo to the divine deliciousness of the fragrance and candle itself. The smell of my candle is like no other candle I have had. The fragrance actually floated beautifully around my house without being over powering. I love the two wicks and the way the light dances over the flakes of gold. The affirmations that are part of the package couldn't be more perfect for where I am right now. 
I'm so glad I was drawn to treat myself. Worth every penny. Absolutely. 
Well done Kaylene you have created something deeply beautiful that nurtures my Soul. Thank you. JM x





J MAREE
EXHALE

The smell from this candle is just gorgreous and easily fills a large room, I look forward to lighting it at the end of the day and relaxing. Highly recommend.

TANYA WELLS
LOVE

The incredible fragance of this candle is to die for. It makes my whole house smell amazing! I highly recommend.

BRI
BLESSINGS

My Blessings Candle is just beautiful. Looks & smells divine.

KERI TUHURU
LOVE & AWAKEN

I absolutely love Light Seed Candles! These are the most beautiful scented & potent candles I have lit.




CHERISSE YANG Saraswati Healer
BLESSINGS & PROTECT & CLEAR

I'm totally blown away with the beautiful LightSeed candles. It was an amazing experince opening the packaging and experincing the beautiful ambience it created. Every little touch you have created is just perfect.

Lee-Anne Higgins
DELICIOUS

I got this amazing deliciously smelling crystal candle for Christmas from my boss and I love it so much that I don't want to burn it to make it last longer. I have it on my work desk and the smell and aura of the jar is making me very zen. I feel very blessed for receiving this so thank you for making it! I would love to smell the other candles and can't wait to add them to my home.

Martina on Jan 18, 2021