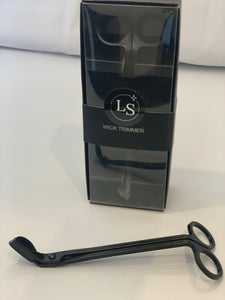 NEW wick trimmers are a must-have for candle care!

Trimming your wicks after each burn helps your candle continue to burn evenly from start to finish.  
That means longer lasting candles and more divine fragrance.
These stylish modern luxury trimmers combine style with function.  Sleek matte black heavy duty yet lightweight steel makes trimming easy with a clever built in tray catches the wicks ensuring your wax stays clean and tidy.
Packaged in a black gift box.
HOW TO USE WICK TRIMMERS
Trimming your wicks is key to candle care!  Maximise the quality and longevity of the candle and helps prevent the candle from producing a large flame which can create soot forming around the glass and melting the wax too quickly.
NEVER TRIM A BURNING CANDLE.  After burning the candle allow the wax to reset and them trim.
Trim the wick to 1/4 inch before lighting your candle each time (except before the first burn) 
Once trimmed relight your candle and enjoy!