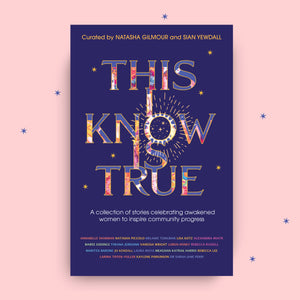 This I Know Is True
co author Kaylene Parkinson - LightSeed Founder.
This I Know Is True is a collection of stories exploring the highs and lows of life women have experienced—emotionally, spiritually, socially, and physically—as we discover what truth really
means so we can access a fearlessness that will enable us to live our truest and bravest life.
Women, of all backgrounds are making way in the new world, illuminating kind, provocative, practical knowledge and wisdom into a deeply neglected and changing world that is profoundly relevant to all of us.
In This I Know Is True, 18 women from around the world share their personal stories. Their stories will inspire your soul and remind you that anything is possible when we reawaken our sacred dreams, tap into our power within that can recreate our world for the better.
Women have the capacity to transform and forge a brighter path for community progress, for all, and to cultivate connection in our changing world.
Includes Free shipping NZ Wide
In Kaylene's chapter named "This Is My Truth" she shares her journey of awareness of the metaphysical and how as a young four year old she tried to block the voice of spirit out of her life.  
Read how her innate connection with spirit evolved from fear to a conscious awakening and how she connects with her inner wisdom.
Kaylene's shares her personal experiences of seeing source energy in action and the effort spirit went to in order for her create Light Seed.
"Im sharing my truth to add body to the awakened collective.  I want to normalise clairvoyance, to raise conscious awareness and help others feel empowered, confident and excited about their own inner wisdom and to assist their awakening journey."  Kaylene