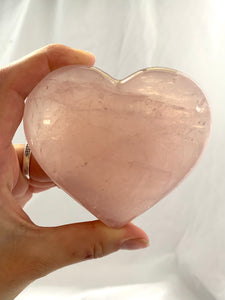 Rose Quartz Heart embodies boundless love and compassion. A symbol of unconditional love.
Carved and polished into cute heart shape! 3 in stock.
Weight: 400 - 430gm
This gentle pink crystal nurtures emotional healing, encourages forgiveness, and restores trust and harmony in relationships.
 Keep it close as a reminder of love's enduring power and let its energy envelop you in a comforting embrace.
Beautiful displayed as a  decor piece or carry with you or place next to your bed or on your heart during sleep or meditation